Hybrid technologies to power innovation in water desalination
Dubai, UAE
January 22, 2018
Roberto De Diego Arozamena – Chief Executive Officer, Abdul Latif Jameel Energy talks to the organizers of the World Future Energy Summit (WFES) 2018
As one of the leading renewable energy companies in the Middle East, North Africa and Turkey (MENAT), Abdul Latif Jameel Energy is proud once again to sponsor the World Future Energy Summit 2018.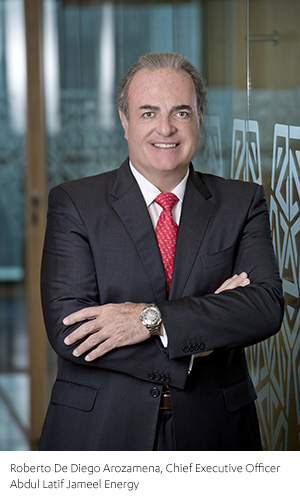 With power demand in the MENAT region set to grow by 7% annually until 2020, Abdul Latif Jameel Energy has endeavored to match demand with supply to become the largest GCC-based solar PV developer, and a world leader in the sector, through our renewable energy company, Fotowatio Renewable Ventures (FRV), a developer of large-scale solar power plants with over ten years of proven worldwide track record.
Abdul Latif Jameel Energy combines wide-ranging international energy expertise with deep knowledge, experience and commitment to local markets and sustainability. We are committed to Saudi Arabia and the wider MENAT region, and at the same time have consolidated our global reach with a presence in more than 15 countries.
During 2017, we achieved several notable landmarks in our continued development. At the start of the year, we began construction on two of the largest solar PV projects in Jordan, while also securing a third in the country. In total, we expect to be powering more than 120,000 homes in Jordan once all these projects are complete.
We also started construction of the Clare solar farm, a development for which we already have a buyer, finalized funding for another Australian solar farm, at Lilyvale, and inaugurated a third, the Moree solar farm. By the time Lilyvale begins operations at the end of 2018, FRV will have installed over one million panels in Australia alone.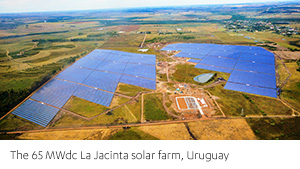 Another landmark was reached with the sale of the 65 MWdc La Jacinta solar plant in Uruguay, the first large-scale solar plant in Uruguay and one of the largest in South America.
Building on our success in solar power, Abdul Latif Jameel Energy has continued to invest and grow, building partnerships and expertise to develop a global and diversified renewable energy offering. This now includes hybrid solar-wind and, recognizing the growing global challenges of water scarcity, also provides water desalination and water treatment solutions.
Focused on the Middle East
Through our international experience, we are exposed to different regulatory regimes, different organizational and operating structures, and different financial models and market conditions, right across the renewable energy and water industries. These inputs afford Abdul Latif Jameel Energy a global perspective and understanding that very few companies have. These insights and best practices from across the world can be adapted and applied to the rapidly expanding sector in our home region to truly make the most of opportunities and potential here in the Middle East.
We launched Almar Water Solutions, a desalination and water treatment plant developer, early in 2017. Together with its partners, Almar is already working on water projects with the Dubai Electricity and Water Authority (DEWA) and has pre-qualified for the Rabigh project in Saudi Arabia, to develop one of the largest desalination plants in the world.
We believe this combination of deep expertise in both renewable energy and water solutions enables us to offer a unique proposition to the market and play a leading role in addressing the energy and water challenges facing our societies, and to use that expertise to benefit communities across the MENAT region.
Green energy 24/7
We are therefore hugely proud to announce that FRV has been awarded its first hybrid wind-solar project, reflecting our commitment to providing a diverse portfolio of renewable energy solutions.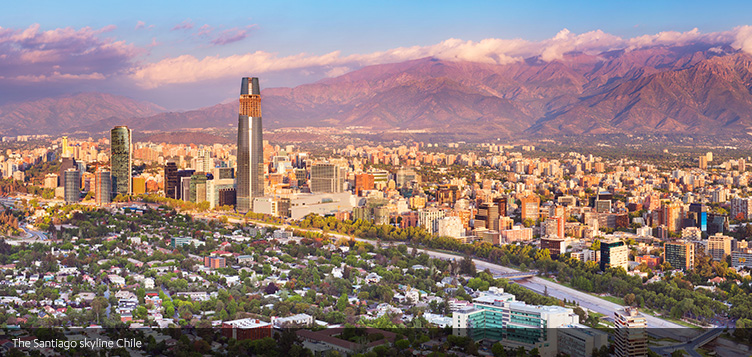 The 540 GWh development in Chile will combine photovoltaic and wind energy technologies, plus battery storage, to provide 24/7 renewable power, irrespective of the weather, wind speeds or daylight.
When the sun is shining, or the wind is blowing, the photovoltaic and wind plants – located several kilometers apart – will generate renewable energy to feed into the grid and charge the batteries. When the conditions are not suitable for solar or wind power generation, the batteries automatically step in and maintain an uninterrupted supply of renewable energy into the network at all times.
This innovative aggregation of renewable energy and battery storage holds enormous potential for one of the Middle East's highest priority sectors: water desalination.
Pioneering carbon-neutral water desalination
Conventional thermal desalination plants consume substantial energy. Most of this today supplied by traditional power plants, which leads to high carbon emissions. Even if renewable energy solutions, like solar or wind power, are used, these power sources do not operate 24 hours a day, 7 days a week, so oil or gas-based turbines are still required to plug the gaps in the renewable energy supply, generating a large carbon footprint.
The new generation of reverse osmosis desalination plants are considerably more energy efficient than thermal plants, as much as ten times more efficient in fact, but the lack of a 24/7 renewable energy source remained a problem. Until now.
With a combined hybrid solar/wind renewable energy and battery storage solution, like the one FRV is pioneering in Chile, it will be possible to power the desalination plan with uninterrupted renewable energy at any time of day or night.
Not only would this make the desalination process carbon neutral, it would also free up vast quantities of oil, previously used to power these desalination plants, for export and hence actively contribute to the economy.
A renewable energy solution would also offer more flexibility in terms of locating the desalination plant. Plants would no longer need to be located close to traditional power stations. The desalination plant could be located closer to the towns and cities where the water is actually needed which in turn reduces the cost of distribution and risk of waste through leakage.
Seizing the opportunity for GCC
Between 2007 and 2030, desalination capacity across the MENAT region is predicted to expand from 21 million m3 per day to almost 110 million m3 per day. This, in turn, will triple electricity demand for desalination to 122 TWh by 2030[1]. So the potential is clear for those who can drive the development of renewable energy-powered desalination.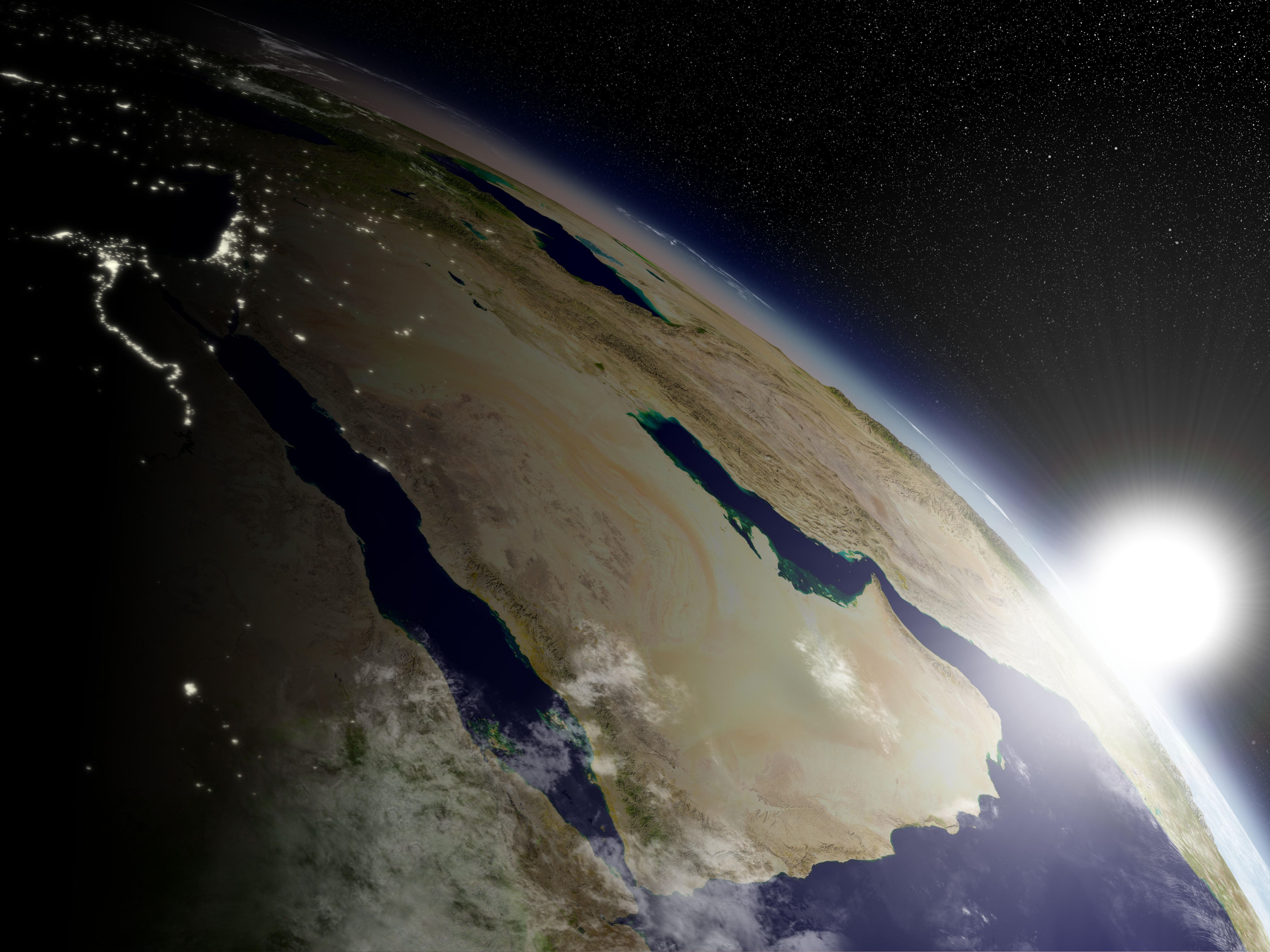 We believe the GCC region has an opportunity to lead the world in this fast-developing field. By making the most of new technologies, and encouraging investment and innovation across the industry, the GCC can not only address its own water scarcity challenges but also put itself at the forefront of a fast-growing, innovative sector that will become increasingly vital to global development in the coming years.
[1] https://www.irena.org/DocumentDownloads/Publications/IRENA-ETSAP%20Tech%20Brief%20I12%20Water-Desalination.pdf