Abdul Latif Jameel Energy celebrates five global solar achievements down under
March 31, 2017 I
Fotowatio Renewable Ventures (FRV), part of Abdul Latif Jameel Energy, the global leader in photovoltaic energy acquired by Abdul Latif Jameel in 2015, is celebrating three significant successes in its operations across Australia and two new projects in Jordan.
In Queensland, FRV has signed a power purchase agreement (PPA) with Ergon Energy for the Lilyvale Solar Farm. The Queensland government-owned electricity retailer will purchase 100 percent of the electricity generated by the 100 MWac (125 MWdc) project.
The agreement will run until the end of the Renewable Energy Target (RET) scheme in 2030. Rafael Benjumea, CEO of FRV, said: "By using commercially-proven, single axis tracking technology, FRV will provide Ergon with greater commercial value by maximizing electricity output over longer periods in the day."
FRV has also secured a US$ 200 million funding agreement for the Clare Solar Farm. Construction is expected to be complete by early 2018, with the plant set to provide enough power for 42,000 homes. The funding agreement makes the project the first utility-scale facility in Australia to secure financing without an additional government grant.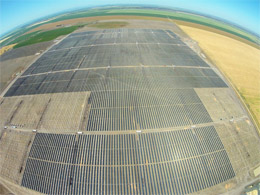 Further south, in New South Wales, FRV has also officially opened the Moree Solar Farm. The Moree Solar Farm played an important role during the region's recent heat wave in February 2017, operating at close to 100 percent while electricity demand in New South Wales approached record highs.
FRV is also working on two exciting projects in Jordan. Empire I, a 65MWp photovoltaic plant in Mafraq, is due to be completed later in 2017. It will use a single-axis tracking system to reduce CO2 emissions by 80,000 tons per year and provide enough power to supply 60,000 homes.
Empire II is also based in Mafraq. It is due to start operating in 2018, and will match Empire I's output – meaning a total of 120,000 Jordanian homes will be supplied by FRV's new solar energy plants by the end of 2018.
Omar Al-Madhi, CEO of Abdul Latif Jameel Energy Saudi Arabia, said: "These successes show the competitiveness of solar power, and our expertise in this field. Expertise which we will bring to play in the rapid development of our home market as we continue pushing the boundaries of renewable technologies around the world."
FRV, a global leader in photovoltaic energy, was acquired by Abdul Latif Jameel in 2015.