Curtains rise on Saudi Arabian cinema
April 26, 2018 I
At a glittering event sponsored by Abdul Latif Jameel Motors Lexus, Saudi Arabia re-launched cinema after a 35-year absence in April when invited dignitaries, government officials and industry specialists were welcomed to a special screening of the Marvel Studios' blockbuster movie Black Panther in Riyadh.
The screening, which was the first cinema showing in Saudi Arabia since 1979, precedes the re-introduction of commercial cinemas from May 2018. The move is part of the wider social and economic reforms being advanced by His Highness Crown Prince Mohammed bin Salman as part of the country's Vision 2030 development plan.
With a growing population of more than 32 million people, of which more than half are under 30, the changing demographics of Saudi Arabia mean the entertainment industry offers a ripe opportunity to drive significant change.
While the public are now free to attend the first commercial cinemas in the country for more than three decades, a series of wider reforms have also been made to encourage the development of the country's film and entertainment industry.
In March 2018, Saudi Arabia's General Culture Authority launched the Saudi Film Council, which aims to offer year-round training programs for talent development and provide a national fund for Saudi filmmakers[1].

A month earlier, Ahmad bin Aqeel al-Khatib, the head of the General Entertainment Authority, outlined the country's plans to invest US$ 64 billion in the entertainment sector "over the coming decade"[2].
Other changes are also outlined in Vision 2030, including the ambition to more than double current household spending on cultural and entertainment activities, from 2.9% to 6% by 2030. Vision 2030 states:
| | |
| --- | --- |
| | "We consider culture and entertainment indispensable to our quality of life. We are well aware that the cultural and entertainment opportunities currently available do not reflect the rising aspirations of our citizens and residents, nor are they in harmony with our prosperous economy… We will seek to offer a variety of cultural venues – such as libraries, arts and museums – as well as entertainment possibilities to suit tastes and preferences. These projects will also contribute to our economy and will result in the creation of many job opportunities." |
By 2030, approximately 350 cinemas, with a total of 2,500 screens, are set to open across Saudi Arabia. This is forecast to generate US$ 1 billion in annual ticket sales revenue, immediately elevating Saudi Arabia to one of the biggest movie markets in the world[3].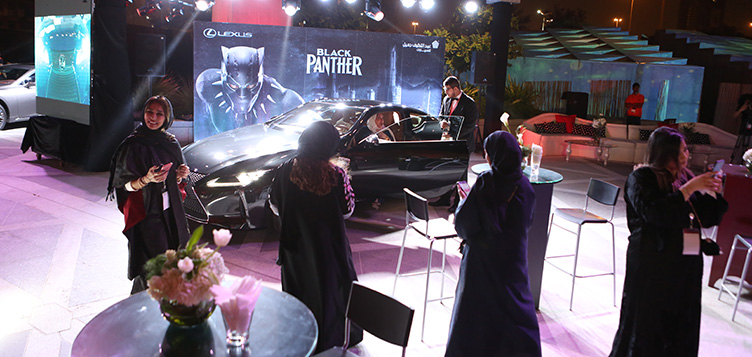 The reintroduction of commercial cinemas in Saudi Arabia is also set to reap significant societal rewards. The revitalized sector is set to provide 30,000 permanent jobs and 130,000 temporary jobs by 2030[4], bringing improved life opportunities to tens of thousands of families across the country. Officials also hope to retain "money that Saudis currently spend on entertainment in trips to Dubai, Bahrain and elsewhere"[5].
It was fitting that Black Panther, the highest grossing film of 2018, was chosen as the one to open the cinema in the King Abdullah Financial District. The symbolism of reopening Saudi Arabia's cinemas with one of the world's biggest blockbusters chimes with the country's ambitious plans to develop the country as a global center for trade and investment.
[1] Saudi Arabia Establishes Film Council To Develop Local, Sustainable Industry, Deadline, 20 March 2018
[2] Saudi Arabia to spend billions on expanding entertainment sector, The Guardian, 23 February 2018
[3] Movie tickets solid in 15 minutes in Saudi Arabia, Gulf News, 21 April 2018
[4] Movie tickets solid in 15 minutes in Saudi Arabia, Gulf News, 21 April 2018
[5] Saudi Arabia ushers in new cinema era with VIP screening of Black Panther, The National, 18 April 2018