Entrepreneurs of the future
September 20, 2016 I
Abdul Latif Jameel is passionate about securing a successful, sustainable future for the Middle East (and other markets where it operates), and it invests heavily in the next generation of business leaders.
From ground-breaking researchers to dynamic innovators, Abdul Latif Jameel is committed to nurturing and encouraging the development of rising entrepreneurs, as they prepare to power the region's growth over the coming decades.
One of the ways it achieves this ambition is by identifying and supporting high-achieving talent through a number of exciting initiatives.
For over 21 years, outstanding postgraduate students from 28 Middle Eastern and Asian countries, have benefited from a jointly funded initiative between Abdul Latif Jameel and Toyota Motor Corporation.
The Jameel/Toyota Endowed Scholarship provides financial assistance to enable aspiring scientists from backgrounds that may not have bene able to study in higher education, to pursue careers in architecture, economics, electrical engineering, mathematics, chemistry, physics, and aviation sciences at the world-leading Massachusetts Institute of Technology (MIT). More than 160 students have benefited from scholarship funding since 1995.
"My ultimate dream is to transfer the knowledge I attain at MIT to my country and open a biomedical engineering lab in Jordan, where biomedical engineering is still nascent but health concerns are rife. I believe that medicine has been working in isolation for too long, and it's time for the engineering and medical fields to merge together in response to the various challenges our world faces today. I want to thank you for your generosity, but most of all, I want to express my profound appreciation and gratitude for not putting a price tag on education. Thank you for making MIT possible."

Ali Rami Daher
Abdul Latif Jameel Toyota Scholar, MIT Class of 2019
Another MIT-related initiative is the MIT Enterprise Forum of the Pan Arab region, in partnership with Community Jameel and Zain Group.
This program recently awarded US$ 150,000 in prize money to the nine winners of its MIT Enterprise Forum Arab Start-up Competition.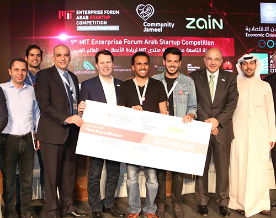 Kuwait's Ghinwa – first place winner in the Start-ups Track MIT Enterprise Forum of the Pan Arab region 2016
Fady Jameel, President of Community Jameel International, said: "We will remain focused on creating and enabling an environment in which young entrepreneurs can achieve their aspirations."
Abdul Latif Jameel's commitment to enterprise also covers Europe, where Fotowatio Renewable Ventures (FRV) has partnered with Fundacion Instituto de Empresa (IE University)
The scholarship is awarded to a student in the community where an FRV project has been developed. Guzman Noya, a student in El Salto, Uruguay, was the first recipient.
Noya said: "The selection process took several months of hard work and effort, but it was worth it."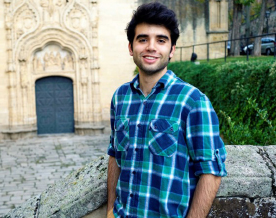 Guzman Noya
Winner of the "Young Talent Leaders" Scholarship from FRV & Instituto de Empresa
Rafael Benjumea, the founder of FRV, said: "We have a strong commitment to the economic and social development of the markets and communities where we operate, and we're pleased to be able to deliver on this commitment through this innovative program."