Ford Trucks drive into Egypt
March 29, 2017 I
Senior representatives from Ford Motor Company and Abdul Latif Jameel attended the launch of Ford Trucks in Egypt, for the appointment of the country's official dealer for the brand.
Tufan Altug, Regional Director of Ford Trucks, Africa, and Tarek Abdullatif, Regional Director of Egypt Operations, Abdul Latif Jameel, were among those present at the event in Cairo, Egypt.
Tarek Abdullatif revealed that Abdul Latif Jameel intended to continue investing and expanding its business in Egypt.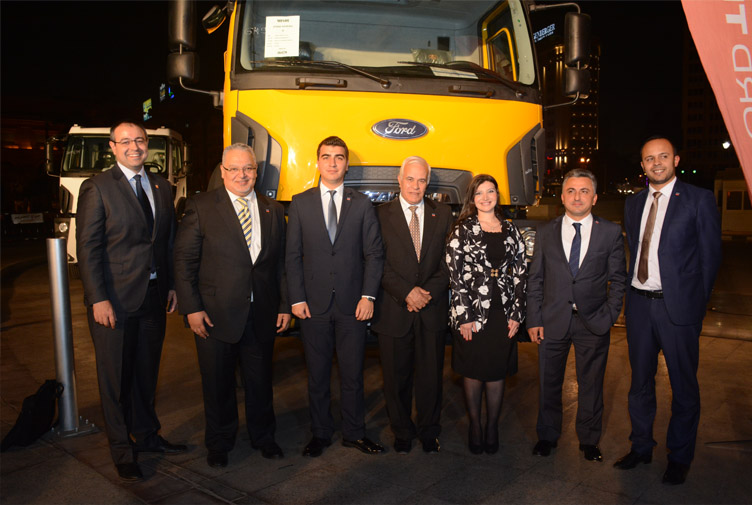 From right to left: – Mr. Otman Tebbane – Marketing Specialist Ford Trucks, Mr. Tufan ALTUG – Africa Region Manager, Ford Trucks; Ms. Dina Kamal – PR & Corp. Comms. Manager, Abdul Latif Jameel; Mr. Mohamed Moussa, Industrial Project advisor, Abdul Latif Jameel; Mr. Fatih Ceken – Regional Representative/Export, Ford Trucks; Mr. Tarek Abdullatif – Regional Director – Abdul Latif Jameel; and Mr. Korhan Dündar – MarComms Ford Trucks
The newly appointed distributor will offer comprehensive sales, service and maintenance, as well as spare parts to all Ford Trucks customers in Egypt through its centers and showrooms in Cairo and Alexandria, and El Mobasher, will provide financing solutions for commercial vehicles.
Tufan Altug predicted the MENA region would eventually be responsible for 25 per cent of Ford's global sales, with the Egyptian market being key to reaching that target. Ford Trucks currently operate in three continents. It aims to be active in 50 countries by 2020.
Ford's history in MENA goes back more than 60 years, and local importer-dealers operate more than 155 facilities in the region and directly employ more than 7,000 people, the majority of whom are Arab nationals.