FRV celebrates 10 years as renewable energy leader
December 5, 2016 I
Fotowatio Renewable Ventures (FRV) is celebrating 10 years of success as a world leader in renewable energy.
Founded in 2006 and acquired by Abdul Latif Jameel in 2015, FRV is an independent producer of photovoltaic solar, and more recently, wind energy.
Since its establishment, the company has completed the construction, operation, maintenance and financing of over 650 MW of photovoltaic and CSP solar energy plants. These projects represent more than US$ 2.5 billion in total financings with more than 20 leading banks.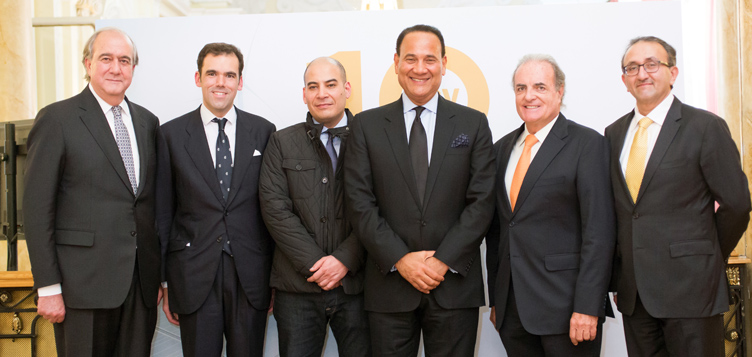 Following significant growth over the past decade, it now operates across five continents and has a 4.5 GW development portfolio in emerging solar markets.
In 2016, FRV's milestones included its first project in Jordan, two new power purchase agreements in Australia and being awarded 300 MW in Mexico's second power auction.
Future plans include further expansion in key markets such as Australia, India, Latin America and the Middle East, North Africa and Turkey (MENAT), where the business's acquisition by Abdul Latif Jameel has helped it to significantly strengthen its presence in the region.
Rafael Benjumea, CEO of FRV, said: "We take great pride in completing a decade as a global leader in the renewable energy market, thanks to the team, clients, suppliers and partners who have made it possible. We want to remain the preferred partner in the energy industry for investors, suppliers and governments, as well as a reference in the renewable energy sector worldwide".
Main milestones
2006
The foundation Group is created
First project in construction: La Magascona (Spain), with 23 MWp
Qualitas Venture Capital (QVC) backs the development of the company and co‐invests with the founding team in a number of solar photovoltaic (PV) energy projects.
2007
FRV becomes the first developer of large-scale solar energy projects in Spain
2008
FRV develops its first portfolio of energy projects in Europe
International expansion to Italy and the USA
Fundraising round is completed with two institutional investors: General Electric Energy Financial Services (GE EFS) and Grupo Corporativo Landon
2009
First pipeline of solar energy projects in the USA
Acquisition of MMA Renewable Ventures, a leading USA-based solar energy developer
2010
FRV becomes the first solar PV Independent Power Producer (IPP) in the USA
First FRV project commences, acting as developers and EPC (Engineering, Procurement, Construction)
USA-based business sold to SunEdison
2011
FRV becomes a leading global Independent Power Producer (IPP) for PV energy
29 MWp sold in Italy to Munich Re
Sale of Concentrated Solar Power (CSP) plants under construction to ACS/OHL
Second phase of FRV's international expansion commences, with projects explored in Australia
2012
First solar PV project pipeline developed in Australia
Leading PV pipeline portfolios developed in Australia and Africa
A third fundraising round is completed with Denham Capital Management LP (Denham)
2013
First solar PV pipeline developed in Latin America
The largest Australian solar PV project, Royalla solar farm, reaches financial close
Projects in Australia (70 MWp) and Latin America (65 MWp) begin construction
2014
FRV becomes a leading solar energy developer in emerging markets
24 MWp becomes fully operational in Australia
Significant global expansion of the project pipeline commences
2015
FRV acquired by Abdul Latif Jameel Energy in April 2015
65 MWp becomes operational in Latin America
New Power Purchase Agreements (PPA) signed in Brazil and Jordan
2016
Sale of 24 MWp from Royalla solar farm, Australia
100 MWp in Jordan begins construction
New PPA signed in Australia: 70 MWp Moree solar farm and 100 MWp Clare solar farm
300 MW awarded in Mexico's second power auction
Financial close of 100MWp in India