Going for gold! Abdul Latif Jameel Motors receives Toyota's biggest award for the eighth consecutive year
April 25, 2018 I
With Toyota as a global Olympic partner to 2024 and the 2020 summer games being held in Tokyo, it seems somehow apt that Abdul Latif Jameel – as one of the world's leading independent Toyota distributors – receives two prestigious global awards at a glittering ceremony in Tokyo, Japan – one of them gold!.
Hassan Mohammed Jameel, Deputy President and Vice Chairman of Abdul Latif Jameel, received the Toyota Excellence Award in Sales & Marketing 2017 and the Toyota Outstanding Customer Service Excellence Award – also known as the 'Gold Award' – at the event staged at Toyota Motor Corporation headquarters in Tokyo on April 9th.
Abdul Latif Jameel has received the 'Gold Award' every year since 2010, while its partnership with Toyota in Saudi Arabia has flourished for more than 60 years.
This enduring success has been built on several foundations, including Abdul Latif Jameel's local expertise; its dedication to knowing, understanding and serving its market in the most comprehensive way possible; and the suitability of Toyota vehicles for the unique environment and transport needs of Saudi Arabia.
Mr Nobuhiko Murakami, Senior Managing Officer of Toyota Motor Corporation, presented the awards to Hassan Mohammed Jameel. Four senior figures from Toyota's Middle- East and Central Asia Division – Mr Naomi Ishii (General Manager), Mr Koji Nagata (Project General Manager), Mr H Nakahara (Department General Manager) and Mr Kazuma Shibata (Group Manager). Mr Koji Ura, Department General manager, Service Management Division. Mr Motoyuki Yanai, Manager of Service Management Division and TMC Jeddah Liaison Officer – were also present.
Hassan Mohammed Jameel said: "All Associates at Abdul Latif Jameel, including myself, are delighted to have been honored with these Toyota Motor Corporation awards. They are testament to the dedication of our staff and their consistent commitment to provide best-in-class service to our customers."

"We are constantly seeking ways to evolve, guided by our overarching principle that our customers – and our service to them – is our top priority. These awards are a recognition of what we have achieved, and a motivation to continue to improve and develop Abdul Latif Jameel's offering."
The awards are based on the results of Toyota Motor Corporation's ongoing achievement and performance assessments of its distributors around the world – in which Toyota partners are evaluated across a range of qualitative and quantitative business performance and customer service metrics.
Abdul Latif Jameel continues to invest in its Toyota guests and build on its longstanding relationship with one of the world's leading car manufacturers, including over 120,000 hours improving skills through training every year with over 90% of the Toyota and Lexus centers being Kodawari[1] Certified and over 24 million hours serving our guests in their ownership experience.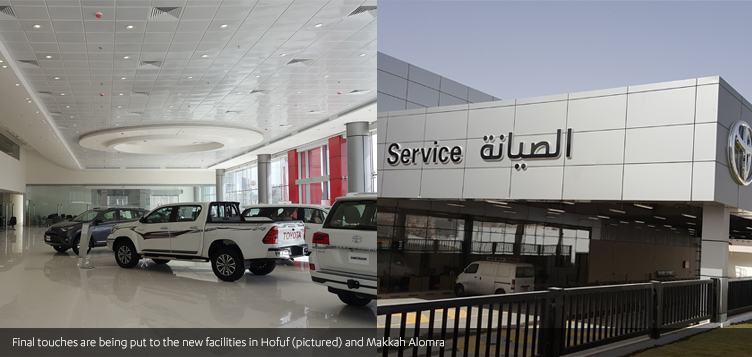 Abdul Latif Jameel Land has completed two new state-of-the-art Toyota and Lexus facilities at key sites in Saudi Arabia. The new showrooms in Hofuf and Makkah Alomra' have been developed for Abdul Latif Jameel Motors to offer sales, service and spare parts, as well as display, approved used cars. Built on the principles of Abdul Latif Jameel's 'Guest First' approach, the showrooms will provide a world-class customer experience.
The Hofuf development stretches across 11,931m2. It includes a 12-car showroom, 34 work bays, a service reception, warehouse, workshop, parts retail, and an external car lot suitable for 22 Toyota and Lexus models.
The 14-car showroom in Makkah covers 15,900m2. It benefits from 54 work bays, a 707m2 delivery building, a service reception, warehouse, workshop, parts retail, and an external car lot suitable for 54 Toyota and Lexus models.
Hassan Jameel said: "Abdul Latif Jameel Motors continues its efforts to provide the best services to our customers, and this center developed by Abdul Latif Jameel Land feature an innovative construction model that enables our guests to enjoy such a unique experience.

"The high-quality facilities in Hufof are an example of the exceptional emphasis Abdul Latif Jameel places on furthering our customers' and clients' experience, wherever they are, through a network of sales and services centers across Saudi Arabia."
A 15,900m2 showroom in Makkah, with 54 work bays, a 707m2 delivery building and an external car lot for up to 54 Toyota and Lexus vehicles, has also recently been completed.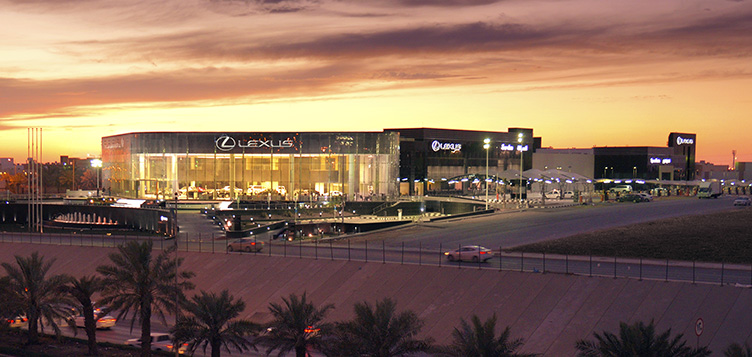 In May 2016, Abdul Latif Jameel Motors inaugurated the world's largest Lexus Center in Riyadh, Saudi Arabia. Located on the Capital's Northern Ring Road, the new facility has a footprint of 26,364m2 and a built-up area of 41,450m2, an area equivalent to four soccer pitches. Providing our Riyadh customers with unparalleled choice, the new vehicle showroom can comfortably accommodate 20 vehicles and offering the very best service standards, the workshop has the capacity to service up to 79 vehicles simultaneously and 160 a day. The centre also includes a secondary showroom with a dedicated space for 15 Lexus certified pre-owned vehicles and customer parking for over 100 visitors.
| | |
| --- | --- |
| With on-site full body and paint repair, over 12,000 parts (most available same day and all in 24 hours) and 1,730m2 of luxurious lounge areas, where customers can relax whilst watching their vehicle being worked on, Abdul Latif Jameel's investment into this exceptional center demonstrates our strong commitment to the pursuit of better service and facilities and to continuously exceed our guests' expectations. | |
[1] Kodawari (こだわり) The two related concepts [Kodawari and Komakai] result in a form of meticulous attention to detail and fierce dedication to quality that produces a 360 degree approach taking into account all aspects of a product or service in order to offer an amazing experience from start to finish ultimately contributing to the success of the business.