Making 'Hayy' in Jeddah arts scene
April 1, 2018 I
Art Jameel, the not-for-profit creative industries arm of Community Jameel, has announced plans to develop a new cultural complex to help nurture and support the burgeoning creative sector in Jeddah.
Hayy Jameel is the latest in a series of major arts investments in the region by Art Jameel. Announced in January this year, Hayy seeks to pursue similar objectives to its other flagship project: the Jameel Arts Centre in Dubai. But although the ultimate aims of both projects are the same – to encourage and support arts and culture locally – the specific nature of each development is very different.

Hayy Jameel is a 17,000 square meter development in north Jeddah, due to open in mid-2019.

Its name derives from the Arabic word for 'neighborhood' and reflects the community-oriented nature of the center.
It aims to work with partner organizations, such as art galleries, digital entrepreneurs, comedy clubs, cafés and more, to present the full diversity of the arts in Saudi Arabia.
Fady Mohammed Jameel, President of Art Jameel, explains that "Hayy Jameel is set to become a base for Saudi Arabian talent, and help nurture a new generation of creatives, in addition to providing job opportunities and training."

"Working with our partners and the local community, it reflects Art Jameel and Community Jameel's commitment to supporting creativity and entrepreneurship in Saudi Arabia and beyond."
Eastern inspiration
Art Jameel commissioned UAE-based ibda design to design Hayy Jameel as a major destination for Jeddah's artistic communities, bringing together a range of cultural experiences.
ibda design is an international architecture, urban and interior design practice based in Dubai, with collaboration offices in Beirut and Tokyo. The firm was founded in 2009, by architect Wael Al Awar, who moved back to the Middle East after spending several years in Tokyo, collaborating with renowned Japanese architects and designers on various scale projects in Japan and around the world.
The three-store Hayy complex will feature open internal courtyards surrounded by shaded terraces and walkways. Shared facilities will include a theatre and events spaces designed for a range of activities − from performances and exhibitions to conferences and community markets.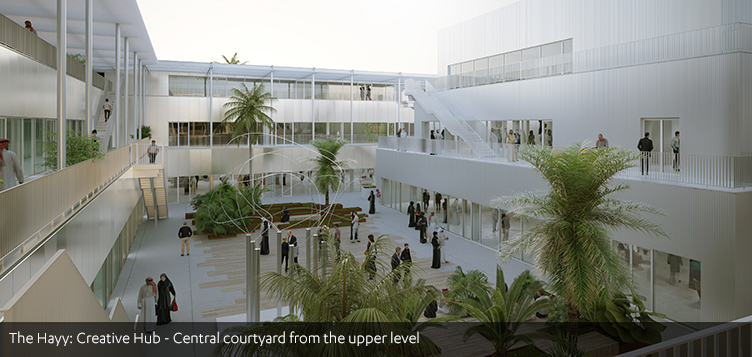 It will bring together and nurture Saudi Arabian artists, playwrights, photographers, filmmakers, entrepreneurs and others, along with the enthusiastic audiences that support them.
Responding to local needs
Antonia Carver, director of Art Jameel, explains the thinking behind the ambitious project:
"We know in Jeddah there is a flourishing creative community, the majority of whom are under 35, working across all different artistic disciplines, from performance to comedy to film-making to art to literature.  But everyone tends to work in isolation.  There's no single place that brings these creatives together, so that's what we are trying to do with Hayy Jameel."

Programming at Hayy Jameel will include world-class local and international exhibitions of modern and contemporary art; a digital hub for upcoming Saudi Arabian producers and directors; a professional theatre plus performance spaces; and a rolling program of educational events for all ages.
Says Carver: "It is not about us imposing our vision on Jeddah.  We looked at what was happening on the ground, at what was most needed to help the arts and creative community to flourish, and how we could help to fill that gap, given our experience and our role as an organization."
Hayy Jameel complements a number of existing initiatives by Art Jameel in Saudi Arabia. Antonia says that some of the initiatives, including Photography Jameel, which nurtures photographers through workshops, courses and provision of a darkroom, will move to Hayy Jameel. Others will continue working in collaboration with local partners.
"We view the arts as interdisciplinary and foresee cross-pollination between the heritage programming running out of the Jameel House of Traditional Arts (Al Balad) in Jeddah and the focus on public art at the Jeddah Sculpture Museum on the Corniche.  These three major sites – Al Balad, the Sculpture Museum and now Hayy Jameel – will contribute to the network of cultural destinations emerging in Jeddah."
Bringing international arts to Dubai
Hayy Jameel is the second major arts centre being developed by Art Jameel in the region.
Currently under construction in Dubai is the Jameel Arts Centre, one of the first contemporary art institutions in the emirate. The 10,000 square meter, three-story multi-disciplinary space designed by UK-based firm Serie Architects, will present curated exhibitions that draw from the Jameel Art Collection, as well as regional and international solo and group shows.
Due to open on November 11, this year, the Jameel Arts Centre is designed as a hub for educational and research initiatives, while its wider programming embraces collaboration and partnerships with local, regional and international artists, curators and organizations.
Located at the tip of Dubai's Culture Village, overlooking the Dubai Creek, the Arts Centre includes more than 1,000 square meters of dedicated gallery space, plus a 300 square meter open-access research centre dedicated to artists and cultural movements of the GCC and wider Arab world; additional flexible events spaces; a roof terrace (designed for film screenings and events); an outdoor sculpture area; and a café, restaurant and bookshop.
Different routes to the same destination
Although Art Jameel is the driving force behind the developments in Jeddah and Dubai, and both aim to support the development of arts and culture in their respective localities, Antonia Carver says the nature of the two projects is very different.
"The Jameel Arts Centre in Dubai will be a contemporary arts institution, putting on world-class exhibitions almost entirely in the field of contemporary visual art.  It also has a strong emphasis on a library and learning opportunities."
"In contrast, the Hayy Jameel, as the name would suggest, is a small, diverse artistic neighborhood.  There are artists' studios, a theatre and cinema, a digital studio for filmmakers and a centre for entrepreneurs.  Art Jameel, will operate and curate half of the centre.  The other half will be given over to like-minded partners, such as commercial galleries, fashion and retail outlets for local designers.  It is about celebrating and incubating the artistic and creative talent that exists in Saudi Arabia today."
Despite the different approach being pursued by Art Jameel in Jeddah and Dubai, however, the fundamental objective is the same: to support, encourage and nurture the creativity within both these great cities.
Says Carver: "Ultimately our work is about nurturing talent and supporting the arts in its wider sense. These objectives remain core to Art Jameel in everything we do, although the implementation on the ground may differ. We tailor our approach to the specific context of each location. That's the best way to maximise the impact we can have."