Sixty years of automotive excellence
September 15, 2016 I
In a year when Japan and Saudi Arabia celebrate their own 60th anniversary of diplomatic relations, one of the most important moments for Abdul Latif Jameel in 2015 was the 60th anniversary of the Company's strategic partnership with Toyota Motor Corporation.
It was when foreign relations between Japan and Saudi Arabia were established in 1955 that our partnership with Toyota began. These two countries have, over six decades, enjoyed increasingly close diplomatic and trade ties. As our partnership has grown and our work with Toyota has flourished, so too has Saudi Arabia's society evolved.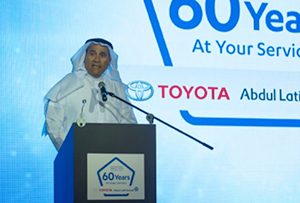 Enormous changes in infrastructure and technology have transformed socio-economic growth in Saudi Arabia, raising living standards and making a positive impact on communities across the country.
This has yielded exceptional outcomes for both companies over the past six decades, and with millions of vehicles traveling through the streets of Saudi Arabia, Toyota has taken a leading position in the market's automotive sector. Since the opening of this first entrepreneurial venture by the late Abdul Latif Jameel on the old Makkah Road, Jeddah, a shared vision, mutual respect and a relentless focus on continual improvement and putting customers first has seen not only growth and success but has also led to the creation of thousands of jobs, making a positive, tangible impact on Saudi Arabian society and seeing the two companies and the history of the nations' development becoming intertwined.
"Change that makes a positive impact on society".
"Conscientious growth through a trusted partnership – serving the Saudi society wherever we operate."
This investment in transportation solutions and the customer experience has been continuous. Last year alone over 5,500, hours of training were investment to keep our network service skills both up to date and of the highest quality.
In recent years that relationship has continued to mature and in the light of climate change, both organizations aspire to a cleaner, less polluted world. Conscientious growth has always been at the heart of this partnership – a commitment to change for the better and change that makes a positive impact on society. It is fitting therefore that Abdul Latif Jameel and Toyota Motor Corporation mark such an important milestone by jointly moving towards the development of smarter, safer driving through higher levels of performance, maintenance and design beginning with the launch of the all-new Prius with the latest hybrid powertrain at the recent 2015 Saudi Arabian International Motor Show – the first of many hybrid cars to come, bringing this eco-friendly technology to the market.
Throughout the years, Toyota Motor Corporation has given unwavering support towards Abdul Latif Jameel and its development in Saudi Arabia. It has provided the Company with incredible incentives and opportunities that have helped Abdul Latif Jameel to excel at what it does, grow, evolve and serve Saudi Arabian society wherever it operates.