Community Jameel: Helping communities transform themselves
Building on the knowledge and expertise developed by Abdul Latif Jameel over more than 70 years, Community Jameel, which was formalized in 2003, is today helping to transform communities and improve the lives of countless people in the MENAT region and beyond.
At the recent two-day Family Business Council – Gulf (FBCG) annual summit in Dubai, UAE, Hassan Jameel, Deputy President and Vice Chairman of Abdul Latif Jameel, was among the speakers and he presented how Community Jameel has evolved into a sustainable social enterprise organization, an example for other family businesses looking to give something back to society.

The FBCG published a case study illuminating its work, an abridged version of which is reproduced by kind permission below.
Holding the Mirror
Community Jameel's mission is to give people the power to improve their lives and the lives of those around them—in essence to 'help communities help themselves'. This vision is distinct from many charitable organizations as it seeks to address the world's societal and economic problems at the source rather than merely alleviating their effects. Three generations of the Jameel family are engaged with Community Jameel, honouring the late founder's dedication to conscientious growth and the pursuit of positive change

Community Jameel focuses on six priority areas: job creation, global poverty alleviation, food and water security, arts and culture, education and training, and health and social.  Some of the organization's key initiatives include:
Bab Rizq Jameel, a jobs program which has helped create over 720,000 job opportunities globally since 2003, including almost 500,000 in Saudi Arabia.
Abdul Latif Jameel Poverty Action Lab (J-PAL), a global network of affiliated professors based at the Massachusetts Institute of Technology (MIT)
Abdul Latif Jameel World Water and Food Security Lab (J-WAFS) at MIT, which conducts research to help combat worldwide water scarcity and food supply shortages
Jameel Gallery for Islamic Art at London's Victoria and Albert Museum; the Jeddah Sculpture Gallery; and the Jameel House of Traditional Arts based in Jeddah, Cairo, and Scotland
MIT Enterprise Forum Arab Start-up Competition, which promotes entrepreneurship and innovation across the Arab world
The Bab Rizq Jameel initiative, in particular, epitomizes Community Jameel's vision and commitment to helping people and communities to help themselves.
Connecting the dots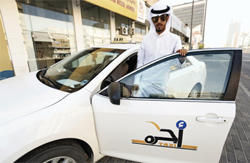 The seeds for Bab Rizq Jameel (BRJ) were planted in 2003, when Abdul Latif Jameel took some of its vehicles and trained young men without jobs to become taxi drivers.  With a philosophy of sustainability and economic independence in mind, those who received vehicles were asked to pay them off, interest-free, as the money from driving came in.  Over time, therefore, these men became taxi owners, not just taxi drivers.
Early in its development, BRJ recognized the need to inform and educate potential participants about its programs.  Television campaigns spread the message, as did consultation opportunities at employment services centers.
The organization grew quickly, funding more entrepreneurial activities using the same principle of repayable loans to support new groups, such as women working from home and other small business start-ups.  It enabled individuals to find economic independence and value in the workforce.
Over the years, BRJ has created programmes to develop links between job seekers and employers; offer support and interest-free loans to entrepreneurs; and provide remote work and home-based job opportunities.  It now employs over 700 people itself.
BRJ's Direct Recruitment program has proved a significant success. "The Direct Recruitment program is an example of the down-to-earth, realistic thinking that we encourage at Community Jameel," says Hassan Jameel, Deputy President and Vice Chairman of Abdul Latif Jameel Domestic Operations.
"We understand there are employers in the region in search of willing and capable people, and, conversely, there are people eager to work.  Yet at times the two parties struggle to find each other, so we put ourselves in the middle to connect them and to develop skill-sets to match employer needs."
Government support has also been a success factor, by fostering relationships with key officials, aligning efforts with government employment goals, and exploring new models and approaches. In addition, BRJ found that creating mutually beneficial partnerships with existing organisations helped widen opportunities to generate employment.  This mindset of partnership – bringing the right resources together at the right time to solve the right problem, not just for the short-term but over a sustainable long-term – led to the simple tagline that still underscores all Community Jameel's work:  Community Jameel – Together for Good.

Creating Impact
One ambition of Abdul Latif Jameel's corporate brand strategy is 'helping people who strive for better to have better: better means, better lives, better prospects'.  We do this because we are determined in our quest for new potential, and to support growth and development in the MENAT region, and beyond.
This orientation is reflected in the evolution of Abdul Latif Jameel from a small distributorship to a diversified international business, of Community Jameel from a small experiment to a multi-faceted sustainable social enterprise organization, and of Bab Rizq Jameel from a small project to a 700-employee company.
Community Jameel projects typically blend a Jameel family member's passion and desire to make a difference with experimentation, leverage of Abdul Latif Jameel's expertise, people, and networks, and an examination of lessons learned.  The initiatives under Community Jameel are either owned and operated by Community Jameel or organized and managed by external partners with relevant expertise.  .
New BRJ initiatives often begin with research to understand needs in the community, an audit of available resources, and a small pilot to test the program in Jeddah.  After proven success, BRJ program have expanded to Egypt, Turkey, and Morocco.  The door is open for new collaborations to increase the number of branches in countries already serviced, and for new partnerships to enter countries not yet in its portfolio.
BRJ also seeks opportunities to integrate with other Abdul Latif Jameel business units and activities.  One example is with corporate sponsorship. Abdul Latif Jameel is the title sponsor of the Saudi Professional League, a football league with 14 teams now known simply in Arabic as Dawry Jameel (or Jameel League).  Abdul Latif Jameel sees Dawry Jameel as an opportunity to bring people together, to entertain, to engage, and to contribute to the ongoing development of Saudi society. In just three years, BRJ created over 10,000 stadium jobs to help young Saudis find work as snack sellers at matches and field crew employees during other on-field events.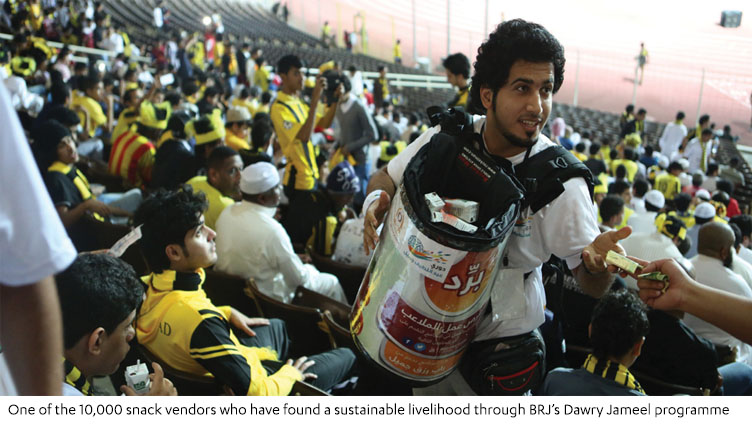 These achievements led to BRJ receiving the Arab Social Media Influencers Award in the Corporate Social Responsibility category in 2015 in recognition of the organization's success in generating job opportunities through its social media platforms.  In 2012, BRJ received an award from the Sheikh Mohammed bin Rashid Al Maktoum Foundation for Entrepreneurs for 'Best Initiative to Support Entrepreneurship in Arab Countries'.  In 2008, Mohammed Abdul Latif Jameel was presented with the King Abdul Aziz Medal of the First Order by His Majesty King Abdullah of Saudi Arabia, the country's highest civilian order, in recognition of his personal contribution to job creation initiatives for you men and women in Saudi Arabia.
Identifying Next Steps
The experience and success of Abdul Latif Jameel and Community Jameel provides useful lessons for other organizations looking to re-invest their time, passion and expertise in the communities they operate in:
Passion: Community Jameel has managed to engage senior management over multiple generations, by allowing people to explore their passion for social causes. The Jameel family's passion is visual art – both traditional and contemporary. It has leveraged this deep interest into programmes showcasing world-class art, expanding arts education for students, and supporting the careers of artists.
Experimentation: Bab Rizq Jameel began with a humble experiment with 10 young men. It has grown through smart pilot projects, iterative learning, and strategic expansion, demonstrating the power of innovation and experimentation. For many businesses, the greater hindrance is a lack of trying or a 'planning paralysis', which limits their action.
Community: Community Jameel makes great efforts to connect with the community it is hoping to serve. Many philanthropists skip this step and launch programmes that are not aligned with local circumstances, resulting in failure.
Expertise: Recruitment is crucial. To be successful, philanthropic initiatives need to hire top quality advisors and recruit staff with the right expertise and practical knowledge to move swiftly from ideas to execution. Alternatively, some choose to partner with international NGOs with the expertise and experience to take the lead.
Evolution: Just as businesses must anticipate and adapt to changes in the marketplace, philanthropic initiatives must also evolve to stay relevant and effective. Finding a balance between sustaining financial support for older efforts that are working, while also advancing new opportunities, is challenging, but as Community Jameel demonstrates, the return is worth the effort.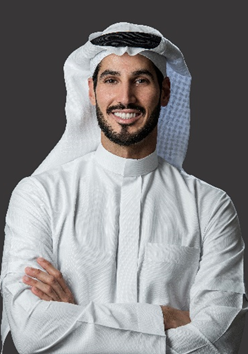 Hassan Jameel offers the following advice: "Let your family's core values for business also serve as a guidepost for giving.  Ours are respect, improve, pioneer, and empower.  We respect and consult with the people we are serving.  We have feedback loops to help us improve our results.  We pioneer through pilot projects that are of deep interest to family members, and we seek to empower communities with our efforts."
Reproduced by kind permission of the Family Business Council – Gulf.
About Family Business Council – Gulf (FBCG)
The Family Business Council is a private, non-profit membership organisation that aims to strengthen family business governance and ensure their continuity over generations, while learning from and where applicable adopting international best practices. Through research, education, and networking, we seek to address issues that are unique to this region. We are run by families for families, the following is our list of GCC Board Members  www.fbc-gulf.org FBCG is a member of a worldwide organization – the Family Business Network International (FBN) www.fbn-i.org – which is the largest global network 'by families, for families' representing leading family businesses all over the world.