Abdul Latif Jameel Energy catches the breeze!
September 20, 2016 I
Global wind installations grew by 17% in 2015, to 63,013 MW, bringing the cumulative total over the last 15 years to 432,419 MW, according to the Global Wind Energy Council (GWEC).
Large markets, in particular, enjoyed a successful year in 2015, namely China, the United States, Germany, India and Brazil, due to their urbanization and rapid development, but regions such as Africa, Asia and Latin America, are expected to lead the market in the next decade according to industry analysts.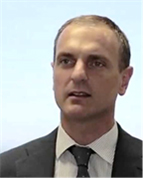 With its recent announcement of diversification into the wind energy sector, Abdul Latif Jameel Energy is currently analyzing potential projects and locations, led by Andrea Fontana and a dedicated wind energy team.  The strategic decision to diversify into wind energy enables the company to enter into another mature renewable power generation area, leveraging its extensive expertise in the development of renewable projects globally.
Roberto de Diego Arozamena, CEO of Abdul Latif Jameel Energy, said, "With the acquisition of FRV last year, Abdul Latif Energy has solidified its position in the global solar energy market and today is ready to add wind to its mix of renewables solutions. There is great potential for wind energy in the Middle East, particularly when combined with solar power, as the region continues to look for renewable energy solutions. The development of new technologies in wind means that power can be generated at lower velocities even for areas with relatively weak wind speeds."
Saudi Arabia continues its rapid growth and development, and energy provision is one of the core themes of the Government's ground-breaking Vision 2030 strategy.
Domestic energy consumption is expected to treble over the next 14 years. While fossil fuels will remain a core part of the energy mix, the Government is also aiming to maximize the country's renewable energy potential.
Vision 2030 outlines a Saudi Arabia that generates 9.5 gigawatts of renewable energy by 2030. The Middle Eastern climate is favorable for solar energy developments, but few have yet grasped the size of the opportunities presented by wind energy.
Analysis has shown average wind speeds across most of Saudi Arabia to range between 6.0 and 8.0 meters per second (m/s). Wind energy becomes economically viable at 6 m/s, and the country's northeast and central regions, as well as those near mountains in the west, offer wind speeds consistently near and above 8 m/s. Abdul Latif Jameel Energy intends to help deliver on this potential.
Omar Al-Madhi, Senior Managing Director of Abdul Latif Jameel Investments, said: "There are tremendous opportunities in Saudi Arabia for the creation of a national renewable energy industry. This, in addition to environmental footprint reduction, will contribute to job creation, GDP growth and economic diversification."
To achieve its Vision 2030 target, the country would need to introduce 700 MW of new renewable energy capacity each year. This is a considerable task and, as with housing, the private sector is being encouraged to play a significant part in achieving this ambition.
The King Salman Renewable Energy Initiative aims to deliver this target while ensuring significant renewable energy manufacturing, and research and development, remains in the Saudi economy. In addition, a planned review of the legal and regulatory framework under which private sector companies invest in the renewable energy sector should help to ensure the industry's continued growth in this area.
Mohammed Abdul Latif Jameel, Chairman and Chief Executive Officer of Abdul Latif Jameel, said: "We fully support the Government's ambition to create a long-term renewable energy industry. We are strategically placed to be part of the development of this burgeoning sector, supporting the country's renewable energy objectives through our global expertise."