FRV to support launch of Jordan's first nanosatellite
January 17, 2018 I Dubai, United Arab Emirates
Fotowatio Renewable Ventures (FRV – part of Abdul Latif Jameel Energy) has further underlined its commitment to science, innovation, education and technology through an agreement with the Crown Prince Foundation (CPF) in Jordan to support the launch of the country's first nanosatellite.
Nicolas Fasquelle, Managing Director for Middle East and Africa (MEA) at FRV, was one of three figures from the organization present at a signing ceremony hosted by Nour Abu Ragheb, acting CEO of the CPF.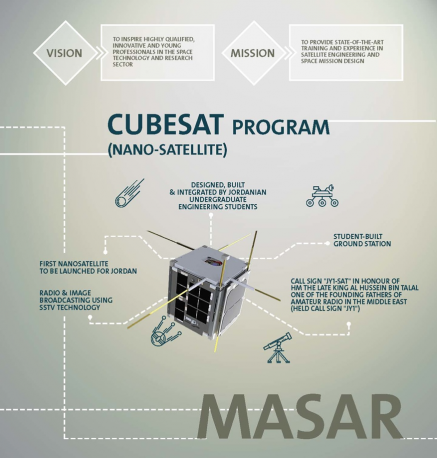 FRV will help to finance and support the launch of JY1-SAT, a Cubesat model satellite that is part of the CPF's Masar Initiative. Once in orbit, the satellite will broadcast images of Jordan's tourist and cultural sites, as well as communicate with ground stations around the world for research and educational projects.
Hear the team's story in this video (Arabic only)
Roberto de Diego Arozamena, Chief Executive Officer of Abdul Latif Jameel Energy, said: "We are very pleased FRV is supporting the Crown Prince Foundation in this groundbreaking project. 

The agreement demonstrates our commitment to Jordan, and strong support for science, innovation, education and technology, which are key to building a sustainable future and providing opportunities for youth in the country."
Nour Abu Ragheb, acting CEO of the CPF, thanked FRV for its support. She said: "This agreement is in line with the CPF's efforts to cultivate strategic partnerships with various national and global corporations and institutions, for the purpose of fulfilling developmental objectives and supporting Jordan's youth in enhancing their aptitude and capabilities."

Through FRV, Abdul Latif Jameel Energy is active in three solar projects in Jordan – Mafraq I and II, and the Al Safawi solar plant – that will power more than 120,000 homes with clean energy.
Watch HRH Crown Prince Al-Hussein bin Abdullah II visit the project's headquarters (Arabic only)