J-PAL co-founder Esther Duflo receives major honor
July 3, 2017 I
A co-founder and co-director of the Abdul Latif Jameel Poverty Action Lab (J-PAL) has been elected to the U.S.-based National Academy of Sciences (NAS) for her ground-breaking work to reduce poverty worldwide.
Esther Duflo is the Abdul Latif Jameel Professor of Poverty Alleviation and Development Economics in the Department of Economics at the Massachusetts Institute of Technology (MIT).
Her research aims to understand the economic lives of the poor to aid the design and evaluation of social policies.  She has worked on health, education, financial inclusion, environment, and governance.  With first degrees in history and economics from École Normale Supérieure, in Paris; she subsequently received a PhD from MIT and has received numerous academic honors and prizes including the Princess of Asturias Award for Social Sciences, the A.SK Social Science Award, the Infosys Prize, the David N. Kershaw Award, a John Bates Clark Medal, and a MacArthur "genius" grant.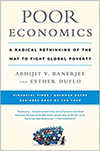 She is also a celebrated author.  With Abhijit Banerjee (also a J-PAL Professor) she co-wrote Poor Economics: A Radical Rethinking of the Way to Fight Global Poverty, which won the Financial Times and Goldman Sachs Business Book of the Year Award in 2011.  It has since been translated into 17 languages.  She is also a founding editor of the American Economic Journal: Applied Economics.
Duflo's inclusion in National Academy of Sciences recognizes her "distinguished and continuing achievements in original research".  Almost 10 percent of NAS members have won a Nobel Prize.
The Abdul Latif Jameel Poverty Action Lab – part of Community Jameel – is a network of 145 affiliated professors from 49 universities, with a mission to reduce poverty by ensuring that policy is informed by scientific evidence. This is accomplished through research, policy outreach, and training across six regional offices worldwide.