Jameel Arts Centre entices and excites crowds after November's grand opening
January 10, 2019 I
His Highness Sheikh Maktoum bin Mohammed bin Rashid Al Maktoum officially opens new building after an 18-month construction.
More than 13,000 visitors flocked to the Jameel Arts Centre within days of its opening in November 2018, Art Jameel has revealed.  The 10,000m2, three-storey space is set to become a central part of the Middle East's arts scene, creating a new cultural hub for the region and displaying the scale of its ambition with a series of eye-catching exhibitions and programs in its first weeks of operation.
| | |
| --- | --- |
| | The Centre, which was officially opened on Thursday, November 8, 2018, by His Highness Sheikh Maktoum bin Mohammed bin Rashid Al Maktoum, Deputy Ruler of the Emirate of Dubai, saw its galleries immediately reach their full capacity. "We were forced to limit access, with queues forming around the building," said Antonia Carver, Director of Art Jameel. |
Plans for the Jameel Arts Centre were originally revealed in March 2017.  Both construction and costs were kept on target, culminating in November's grand opening in front of a packed audience of high-profile guests from the worlds of art, business, philanthropy and politics.  Her Excellency Noura bint Mohammed Al Kaabi, the UAE Minister of Culture and Knowledge Development, provided a fascinating welcome speech while exhibitions featuring 40 different artists were also displayed.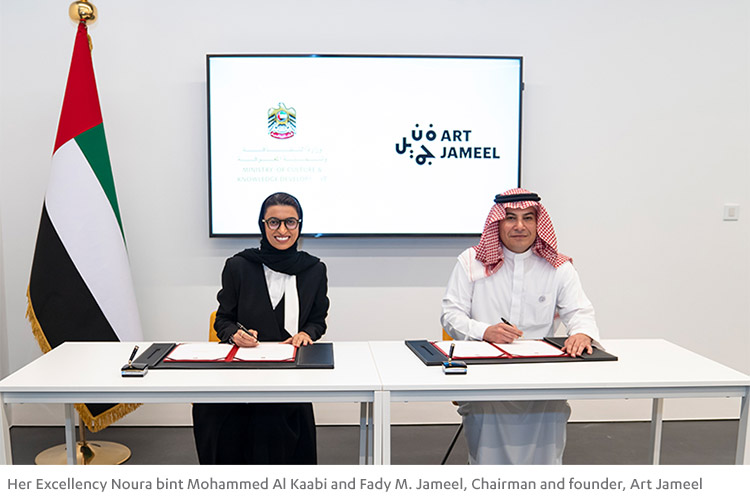 Ms Carver said: "Five years of planning and building, and 1.4 million hours, have gone into creating the Jameel Arts Centre. We are thrilled and overwhelmed by the incredible response – from international museum directors and art-world colleagues to the 'curious' of the UAE.

"Art Jameel's mandate is all about supporting artists and providing access to the arts for all; we couldn't have hoped for a better way to debut our first Centre. We'd like to thank our Government and private sector partners, as well as the community-at-large, for supporting us in bringing this dream alive."
Situated at the tip of Dubai's Culture Village, with views overlooking the Dubai Creek, the Jameel Arts Centre also welcomed directors and curators of the V&A, British Museum, Delfina Foundation, Whitechapel Gallery, and Royal College of Art (all London); Louvre, Centre Pompidou, Musee Rodin, and Musée D'Orsay (all Paris); the Metropolitan Museum of Art, New York; Getty, Los Angeles; Aga Khan Museum, Toronto; and Ashkal Alwan and National Museum, Beirut.
On its first public opening, more than 300 teens from across the Emirates – many of whom were making their first visit to any museum – were given guided tours.  Other artist-, curator- and architect-led tours were available to adult throughout the rest of the week.
Among the highlights was the regional premiere of WATERLICHT, an immersive light installation by renowned Dutch artists Daan Roosegaarde; Crude, a group exhibition curated by Murtaza Vali contemplating oil in both historic and contemporary contexts; and solo shows from four eminent artists from the Middle East and Asia – Maha Malluh, Lala Rukh, Chiharu Shiota, and Mounira Al Solh.
The Jameel Arts Centre will make history not just for its exhibitions, but for its determination to make the arts and cultural life more accessible to all.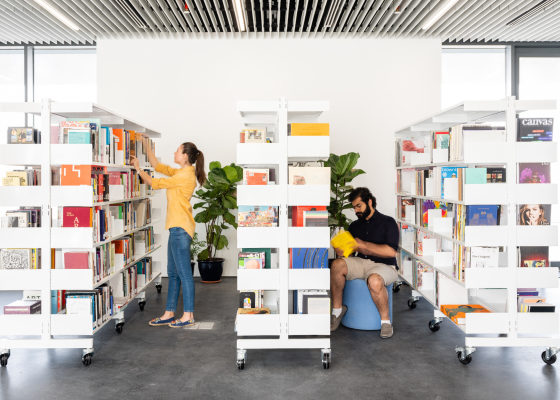 By housing the Jameel Library, the UAE's first open-access contemporary art library and resource centre, it will provide a collection of almost 3,000 books, journals, catalogues and theses for general consumption.
A further demonstration of the Jameel Arts Centre's vision is provided by the Youth Assembly, a pioneering peer-to-peer program running until April 2019, in which the next generation of creatives will produce a series of exhibitions and events geared specifically towards those aged 18-25.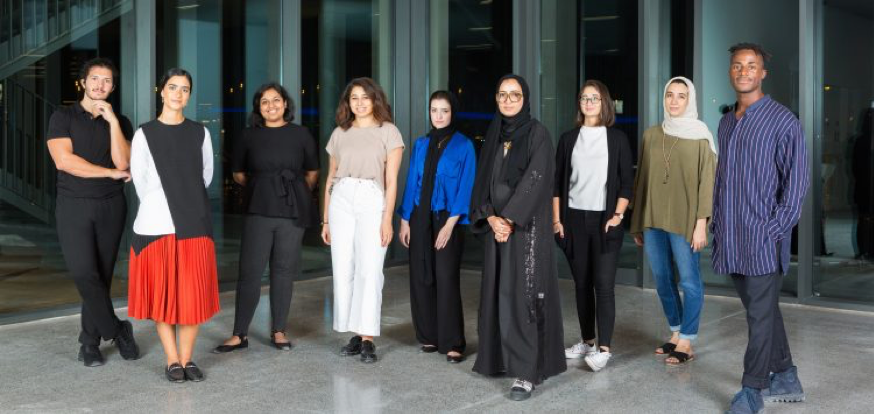 The Jameel Arts Centre was designed by Serie Architects and features a 300 m2 open-access research centre, an outdoor sculpture area, a café, a restaurant, and a bookshop.
Getting There
Jameel Arts Centre is open-access and free for all.  Visitors are requested to stop at the Welcome Desk to register and pick up a map to explore the Centre, courtyards and the surrounding park.
The Centre has a number of facilities to make visits more enjoyable and convenient. Jameel Arts Centre has free WiFi throughout the building for visitors to remain connected as well as luggage check at the Welcome Desk and lockers for easy touring.  It is also equipped with male and female Faith Rooms on the Ground level.
Jameel Arts Centre is located in Jaddaf Waterfront, nestled between Business Bay Bridge and Garhoud Bridge on the Bur Dubai bank of the Dubai Creek.
Public Transport
Jameel Arts Centre is a 12-minute walk from Al Jadaf metro station (Green Line). Metro journeys can be planned on the RTA website.
By Car
Jaddaf Waterfront is accessible from both E11 and Al Khail road.
Parking is located in the Jameel Arts Centre's basement and is available in the outdoor, drop-off parking area.
Opening times
Sunday – 10am – 8pm
Monday – 10am – 8pm
Tuesday – 10am – 8pm
Wednesday – 10am – 8pm
Thursday – 10am – 8pm
Friday – 10am – 10pm
Saturday – 10am – 8pm