Recognition for Abdul Latif Jameel
September 20, 2016 I
Abdul Latif Jameel is celebrating three external awards which recognize the outstanding contribution of its leaders and employees.
Mohammed Abdul Latif Jameel, Chairman and Chief Executive Officer of Abdul Latif Jameel, was the recipient of two prestigious awards earlier this year. In March, Mr Jameel attended a ceremony in London, where he was presented with an honorary doctorate from the University of Wales Trinity Saint David (UWTSD) by His Royal Highness The Prince of Wales.
UWTSD Vice-Chancellor Medwin Hughes said: "The University is delighted to confer our highest honor upon a remarkable individual whose distinguished contribution as an international ambassador has transcended cultural boundaries and promoted greater understanding of multi-cultural traditions."
In June, Mr Jameel was awarded the Bronze Beaver, the highest award the MIT Alumni Association bestows on alumni volunteers, in recognition of his distinguished service to the institute. Mr Jameel, who graduated from MIT in 1978, has since created the Abdul Latif Jameel Poverty Action Lab (J-PAL) and the Abdul Latif Jameel World Water and Food Security Lab (J-WAFS) at MIT.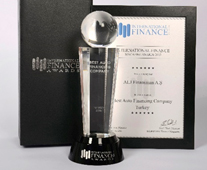 There was also success for Abdul Latif Jameel's Toyota operations in Turkey, which for the second successive year was recognized by Great Place to Work® (GPW), a global research, consulting and training firm. GPW aims to highlight companies with highly productive and satisfied workforces, and it recently named Abdul Latif Jameel as one of the 13 best employers in Turkey.